This summer, we hope to:
Play outside, a lot!
Eat fresh fruits and vegetables from our garden
Play in the wading pool
Play in the sprinkler
Eat lots of watermelon
Make crafts on rainy days
Make matching summer dresses for the girls (they picked out the fabric already)
Make a summer dress for me
Make dress-up clothes for all three kids – ESPECIALLY the poor, ever-abandoned-in-the-homemade-clothing-department BOY
Visit local farms
Visit local farmer's markets
Rescue some of our blueberries and strawberries from the sneaky chipmunks that get fatter every day
And, hopefully, go to Story Land!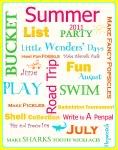 MaryAnne lives is a craft loving educator, musician, photographer, and writer who lives in Silicon Valley with her husband Mike and their four children.