I'm thrilled to be representing Massachusetts for today's Booking Across the USA blog hop! Make Way for Ducklings was the obvious choice – it is a book I remember loving as a child, and my kids adore it, too! Visiting the Make Way for Ducklings statue is a highlight for my kids every time we visit the Boston Common (that's a two-year-old Lily in the picture), and this book has even inspired an annual Duckling Day Parade!
In this fun, based-on-a-real-event story, a family of ducklings grows up in the heart of Boston – safely, thanks to a helpful policeman! Print some of your own through my free printables page. Your kids can color these cute ducks after reading the story, and if you are really ambitious maybe you can make your child one of these adorable duckling costumes!
Check out the other states below, or by clicking on the button!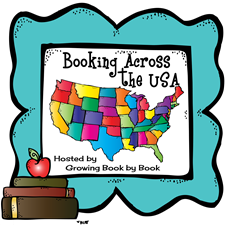 Alabama: Everyday Snapshots
Alaska: Little Wonders' Days
Arizona: Simply Kinder
California: Juggling with Kids
Colorado: Learners in Bloom and Living Montessori Now
Connecticut: The Teacher Park
Delaware:
Florida:
Georgia: Fabulously First
Hawaii: Teaching With Style
Idaho: True Aim Education
Illinois: Growing Book by Book
Indiana: Teach Preschool
Iowa: Surviving a Teacher's Salary
Kansas: KCEdventures
Kentucky: Chicken Babies
Louisiana: New Orleans Moms Blog
Maine:
Maryland: Picture Books and Piourettes
Massachusetts: Mama Smiles
Michigan: Play DrMom
Missouri- Ready. Set. Read!
Montana: The Honey Bunch
Nebraska: The Good Long Road
Nevada: Boy, Oh Boy, Oh Boy Crafts
New Hampshire: Elementary Matters
New Jersey:
New Mexico: Enchanted Homeschooling Mom
New York: What Do We Do All Day
North Carolina: Realistic Teacher Blog
North Dakota: ND HealthWorks
Ohio: Smart Chick Teacher's Blog
Oklahoma: Herding Kats in Kindergarten
Oregon: Journey of a Substitute Teacher
Pennsylvania: Land of Once Upon a Time
Rhode Island: Smiling in Second Grade (holding a giveaway)
South Carolina: JDaniel4's Mom
Tennessee: No Monkey Business
Texas: Curls and a Smile
Utah: 
Vermont: Burlington Vt Moms Blog
Virgina: Once Upon a Story
West Virginia: This Week @ Great Peace Academy and Mamas Like Me
Wisconsin: Reading Confetti
Wyoming:
USA: The Corner on Character
Do you have a favorite book that takes place in Massachusetts? How about a favorite book that takes place in your home state, town or country?
MaryAnne lives is a craft loving educator, musician, photographer, and writer who lives in Silicon Valley with her husband Mike and their four children.