My sister C came to visit us a couple months ago, and (knowing of my love of making things out of old clothing) she brought me a few old clothes to repurpose. This apron (which is currently making its way across the US to her home) is the product of this shirt:
And part of a vintage sheet. Here are the pieces, all cut out:
I hemmed the cut edges of the top and the sides of the sheet (the bottom didn't need hemming because it was originally the top of the sheet, and therefore already hemmed). Then I sewed the two parts together, wrong sides together. I stitched some ribbon over the seam, so there are no raw edges visible in the final product. I folded up part of the sheet to make a shallow pocket that runs all the way across the apron, stitching a couple of times across so that there are technically three pockets – two side ones, and a larger middle one. The apron has an empire waistline because C is expecting her first baby, and I wanted something she'd be able to wear throughout her pregnancy – and because I thought it looked cutest that way. =)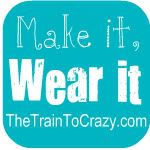 MaryAnne lives is a craft loving educator, musician, photographer, and writer who lives in Silicon Valley with her husband Mike and their four children.